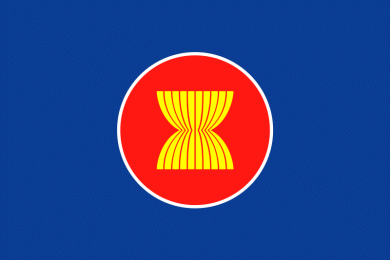 The foreign ministers of the Association of Southeast Asian Nations (
ASEAN
) are meeting in the beautiful mountain resort of
Ubud
in Bali this week. An editorial in
the Jakarta Post
calls for renewed action in the association:
"ASEAN risks becoming irrelevant if it does not respond to the huge challenges it faces today, nearly 40 years after it was first formed. The foreign ministers have the task of convincing the international community that the regional grouping continues to be relevant by taking strong action against any members who threaten the existence of the association.

Established with a grand vision, ASEAN is increasingly seen as ineffectual. Apart from becoming a never-ending talking circuit — it sometimes seems not a day passes without a meeting linked to ASEAN — it has done very little in the way of practical action."

The editorial links ASEAN's lack of action mainly to the Myanmar issue. Myanmar's inclusion into ASEAN has until now not led to any significant changes. On the other hand, the adjourning of diplomatic relations by other countries have also not led to any results. Besides, it wouldn't be fair to judge ASEAN's actions solely on the basis of the Myanmar issue.
Compared with many other regional groupings, ASEAN has performed fairly well. Although it started (in August 1967) mainly as cooperation for security reasons, it has launched an ASEAN Free Trade Area (AFTA) in the 1990s and it now covers a wide range of other issues, ranging from telecommunications to education.
Last year, an 'Eminent Persons Group', consisting of former political leaders from the 10 countries, was established to think about ASEAN's way forward and the drawing up of a charter.

"Members of the Eminent Persons Group are close to agreeing on means to strengthen the role of the ASEAN secretary-general and effecting a sanction mechanism for recalcitrant members. The 10 members also want more involvement of citizens of ASEAN countries in the decision-making process to ensure the grouping is not seen merely as an exclusive club for government officials and civil servants. They also agreed that the present ASEAN approach to decision-making through consensus has to be revised."

"To make ASEAN more people-oriented, an ASEAN Consultative Assembly, consisting of members of parliaments and representatives of civil society, could provide advice, feedback and oversight. Decision making needs to be redefined and redesigned, when consensus is required and when voting can be used. In the case of voting, what should be seen as adequate: 50 + 1, two-thirds, or three-quarters?"
At the same time, the Jakarta-based ASEAN Institute for Strategic and International Studies (ASEAN-ISIS) proposed the establishment of an ASEAN Court of Justice which should serve as an independent body.

"The Court of Justice would ensure the timely resolution of any regional disputes that arise based on agreed rules and obligations and the norms and principles of international law. The ASEAN Court of Justice, according to the proposal, should be given jurisdiction over economic agreements, interstate disputes and ASEAN agreements."

These new developments – a Charter, a Court of Justice, an Assembly including civil society actors, a shift away from decision-making by unanimity – show a great deal of similarity with European developments. The question therefore comes up: will ASEAN become like the EU? Former Secretary General Severino addressed this question five years ago. His answer?

"Most likely not. At least not exactly. As the EU itself acknowledges, it is unique as a regional organization and will probably remain so. But we can expect domestic and external forces, the logic of globalization, and the imperatives of regionalism to move ASEAN to resemble the EU more closely than it does today, and as ASEAN evolves, more closely than we can foresee today."
(Jakarta Post quotes are from its 18 and 19 April editions. They are not directly linked because the JP does not use stable links.)